At Security Blinds we take a consultative approach and our aim is to provide solutions that are both value for money as well as being the most appropriate for your requirement. We have our own design, manufacturing, sales and installation team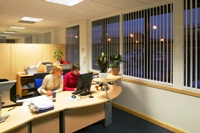 s.
Our products have been tested by experts and accredited to ensure we provide the best security possible against against forced entry, ram raids and even bomb blasts.  We provide a complete protection solution to a very high level with our Secur™ security blinds, film, and our anti ram raid barrier for intruder prevention and Secur™ Plus and Secur™ Ultra for blast protection.
For a full list of products please click here
Security may not be high on your budget considerations –  that is until you get broken into. Many of the calls we get are from businesses that have been broken into. They realise only too late that the protection they need to secure their building and assets could also save their business.
Call now for a free quote.