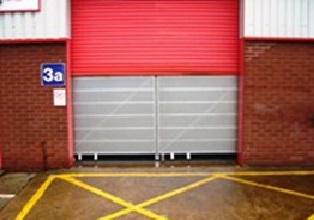 Crime targeting vulnerable businesses is on the increase. All types of premises are vulnerable. Ram raiders are getting away in minutes with the theft of valuable stock from industrial units, commercial and retail premises. You may be unaware, like many businesses, of this serious threat, believing that by having roller shutters in place you are secure against all break-ins.
Roller shutters will not protect your premises or loading bay door from Ram Raids. Vehicles are being increasingly used to breach these metal roller shutter doors in order to steal high-value stock. Portable goods such as electrical products, sport and fashion clothing, plumbing and building supplies, plant and equipment are particularly sought after and targeted. Posts and bollards may not be strong enough to resist attack, depending on the force used in the ram raid, and once compromised make the entrance unusable for normal business operations.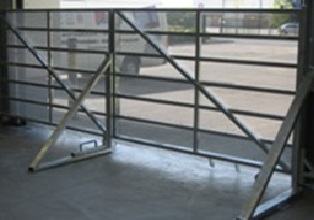 Insured at a cost
If you are insured, your insurance premiums may be increased or your cover may even be removed, forcing you to pay out if your industrial unit or warehouse was attacked by a Ram Raid. Not to mention lost business due to recovery from this disruption and emotional anxiety for anyone who may have been involved in the incident – its still a high risk to take, despite being insured.
CANNOT GET INSURED?  The Anti Ram Raid Barrier will insure your stock.
By installing our unique Anti Ram Raid Barrier behind your roller shutters you will be protected against ram raids.
The retractable Anti Ram Raid Barrier is anchored to the inside of the building and will resist being rammed from large vehicles.
Our Anti Ram Raid Barrier is designed to work with roller shutters.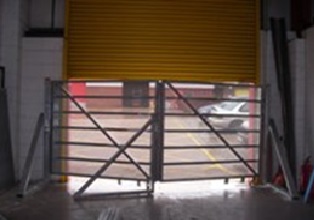 Highest security for Industrial Units and Warehouses
There are several ways in which burglars attack roller shutters and the specifications of the Anti Ram Raid Barrier address these, preventing the roller shutter from being forced open by jacks or breached by angle grinders by determined thieves.
Fitting and Installation
The Anti Ram Raid Barrier can be fitted into most facilities with roller shutters. Easy to install and operate, the Anti Ram Raid Barrier is approximately 1800mm high with the width determined by the size of your roller shutter using configurable barrier combinations of 2 or 3 gates. Upon installation, you will have immediate and ongoing protection. The Anti Ram Raid Barrier is constructed from galvanised steel box sections and pillars. It is anchored by a twin barrel device that locates into steel plates and padlocked. The substance of the construction and this anchoring allows for great resistance from a ram raid both externally and also internally (when padlocked), even once the roller shutter has been penetrated.
Easy to Use
The Anti Ram Raid Barriers are cost effective, look smart and the galvanising protects them against weathering. They are easy to operate and offer Health and Safety benefits as they are light enough to move to the side when not in use. The bi-fold barrier is retractable, stacks back and normally takes up 'dead space' behind the roller shutter so valuable storage space is not lost. To retain effective security the Anti Ram Raid Barrier can be kept in place while roller shutters are open, allowing for ventilation and light in the facility.
To discuss your specific requirements in more detail please contact us.