City University (based in the City of London with twenty thousand students) were looking for a solution to strengthen their security. They were expecting to install a combination of grilles, laminated glass and traditional blinds but instead they found a solution, which fulfilled all of their needs in one product – Secur™.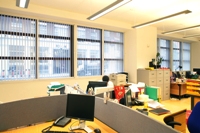 The requirement put together by Bernadette Duncan, City University's Head of Security Services, Telecommunications and Safety Liaison Office was for a strong security solution for the large ground floor windows on one of the main roads in the City where passers-by have a full view of the office area inside. The open plan area was due to house a full set of workstations including appropriate IT equipment.
The blinds were also required for privacy and sun protection. As not only was part of the office south facing, hence likely to be full of sun in the summer, but also some privacy was vital for the employees.
City University installed Secur™ in July 2005, and it has exceeded their expectations since. Bernadette Duncan has found that the users are particularly pleased with Secur™:
It does not make them feel as if they are in a prison – unlike the approach they would have traditionally taken with security grilles.
David Young, City University's overall Project manager from their Department of Property and Facilities was very happy with the solution:
It involved just one supplier, not three, which had reduced the University's time spent on project coordination and administration.