Level Of Protection
The Secur™ range of products has been tested up to 500kg of TNT equivalent and proved highly effective in mitigating the effects of bomb blasts reducing the risk to life and assets to minimal levels.
The product therefore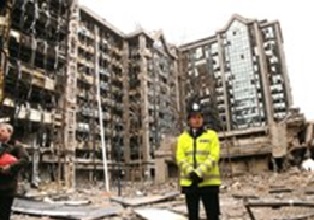 provides a solution to protect personnel and property from terrorist or industrial explosions. Secur™ is also offered in conjunction with anti ballistic glazing and doors for a complete security solution.
Leading telecoms provider, BT Have This to say about our product:
"In one of BTs more sensitive locations we have used Secur™ to replace steel plates over windows and continue to provide the same duty of care. The blinds have provided a greatly enhanced working environment, protecting the premises from burglary and the effects of bomb blast."
Benefits of Secur™ Bomb Blast Protection
Unobtrusive, the blinds look and act just like conventional vertical blinds.
Fits most environments
Never been broken into
High level window security
Protection against a large vehicle bomb
Blinds can be open and still mitigate the blast
Continued protection against looting after a blast
Bespoke design solutions to fit most situations
Accredited by UK and US Governments
500kg Bomb Blast Test
The way Secur™ protects is deceptively simple. The second a blast occurs in the vicinity of your protected premises, the blades snap shut. This provides an impenetrable barrier, preventing flying glass and debris from penetrating the building, protecting both the internal premises and individuals in them. The building also remains secure from looting.
Every public building has a duty of care not only to its employees but to those that visit. Security Blinds offers a bespoke service for window security that not only protects against theft, sabotage, and ram raids but also explosions and bomb blast.